Victor and victrix ludorum Kadyn Prescod and Rejada Hinds were among the chief destroyers on track today for champions Adam "Blue" House as they lifted the title four years on a stretch during St. Giles Primary School's inter-house sports.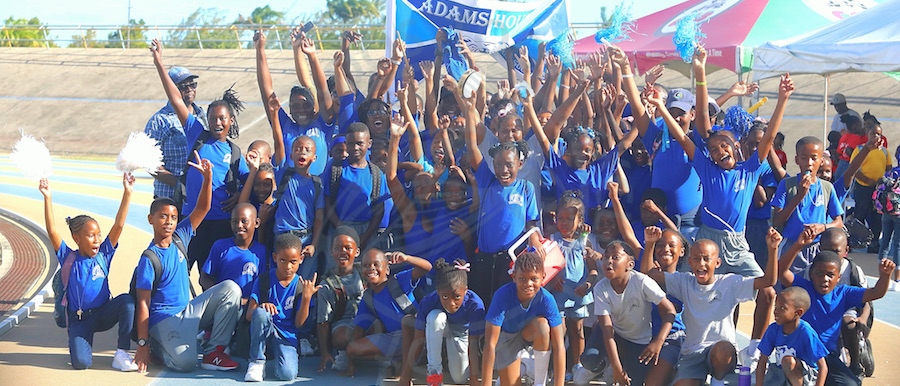 During the annual sports held at the National Stadium today, Prescod and Hinds both in Under-nine Division accumulated 50-points each for Adam House who totalled 505 to race away with the trophy ahead of Brewster "Yellow" House on 399 for second place. Parris "Red" House finished strong for the third position on 313 while Cumberbatch "Green" House's 253 saw them finish fourth.
Prescod clocked 13.17 seconds for victory in the 80m and was not quite finished when he sped away to a top podium finish registering 16.22 in the 100m and 24.59 for supremacy in the 150m. He also tossed 28.70m in the cricket ball throw and recorded a 2.45m in the long jump.
St. Giles are the reigning queens of the National Primary Schools Athletics Championship and Hinds along with the Applewhaite twins, Tia and Tania, will be among those to watch next month when the school goes on a quest to repeat as girls' champions for a second year straight.
Hinds was first in the Under-nine Girls 80m showcasing excellent technique and running form to deliver 13.69 seconds on the clock. The race was on for second because Hinds from the sound of starter Wendy Barrow's gun was out like a bullet as she won the 100m in 16.70 seconds and the 150m in 25.65 seconds. Hinds took gold in the cricket ball throw with a mark of 18.61m and landed at 2.36m to secure a win in the long jump.
Victrix ludorum last year at NAPSAC and Under-13 Girls Division champion Tia Applewhaite looks set to defend her title. Scoring 43 points, Tia stood out in the 100m (13.77), 200m (27.64) and 400 (1:08.89) ahead of her main rival and twin sister Tania who placed second in the 100m (14.14) and 29.01 for the 200m.
In the long jump, Tia also emerged victorious with a 4.14m distance. Tania did not feature in the 400m but came out on top in the 600m in 1:58.32.
Under-13 Division champion Javier Norville accounted for 39 points for Adam House by winning the 100m (14.39), 200m (29.92) and 400m (1:12.00) but was made to settle for second in the long jump (4.02m) behind eventual winner Amari Edey of Parris House 4.06m.
Brewster House captured the Division Champion titles in both the Under-11 Girls and Boys age group compliments Nyah Oughterson with 29 points and Nathan Cumberbatch with 41. Those two were in a class of their own as Oughterson came out on top in the 200m registering 31.40 seconds and a time of 50.36 in the 300m. However, she was made to settle for second in the 100m running 15.29 behind a time of 15.11 by Clenliece Clair of Parris House.
Meanwhile, Cumberbatch compared to the others in the Under-11 Boys races was flying as he stamped his authority with a 14.37 clocking in the 100m, a 29.23 in the 200m but missed out on the record set in 2011 by Jahlarni Toney in both of those races. Toney's time to beat in the 100m was 14.04 and 29.14 in the 200m.
Cumberbatch stood out in the 300m as he pulled away from the field in 50.36 for the gold medal and was the best long jumper (3.87m) in that age group.
morissalindsay@barbadostoday.bb
The post Adam House repeat as champions appeared first on Barbados Today.